Introducing… The Summer Capsule Wardrobe 2022!! I am super excited to get back into Seasonal Capsule Wardrobes! I love using these capsules to plan a good well rounded collection of favorite clothing pieces that mix and match easily with one another. You can further build out with the addition of key pieces later in the season (and we will, look out for an update in July!)
A NOTE ABOUT CAPSULE WARDROBES
Remember, that Capsule Wardrobes are suggestions of items that would pair well together, that will give you tons of seasonally appropriate options. They are NOT intended to be, but very well can be your sole wardrobe for the season. It is important to remember that all wardrobes need to be adjusted seasonally for climate. You should be curating your closet to reflect items that are currently wearable and keep those out in front of your view and reach. You will wear more of your closet if you place out of season items out of sight/reach.
Not everyone's wardrobe will look the same! You will infuse your own Summer Capsule Wardrobe with your very own taste and preferences. For instance, a stripe tee might be a printed graphic tee, and the green silk skirt could very well be a longer midi length floral skirt. Also, lots of these items are wearable for different environments and engagements, if you are looking for a Summer Workwear Capsule, I will be introducing that later in June. Remember, to SHOP YOUR CLOSET 1st! YOU have so many of these pieces in your wardrobe already!!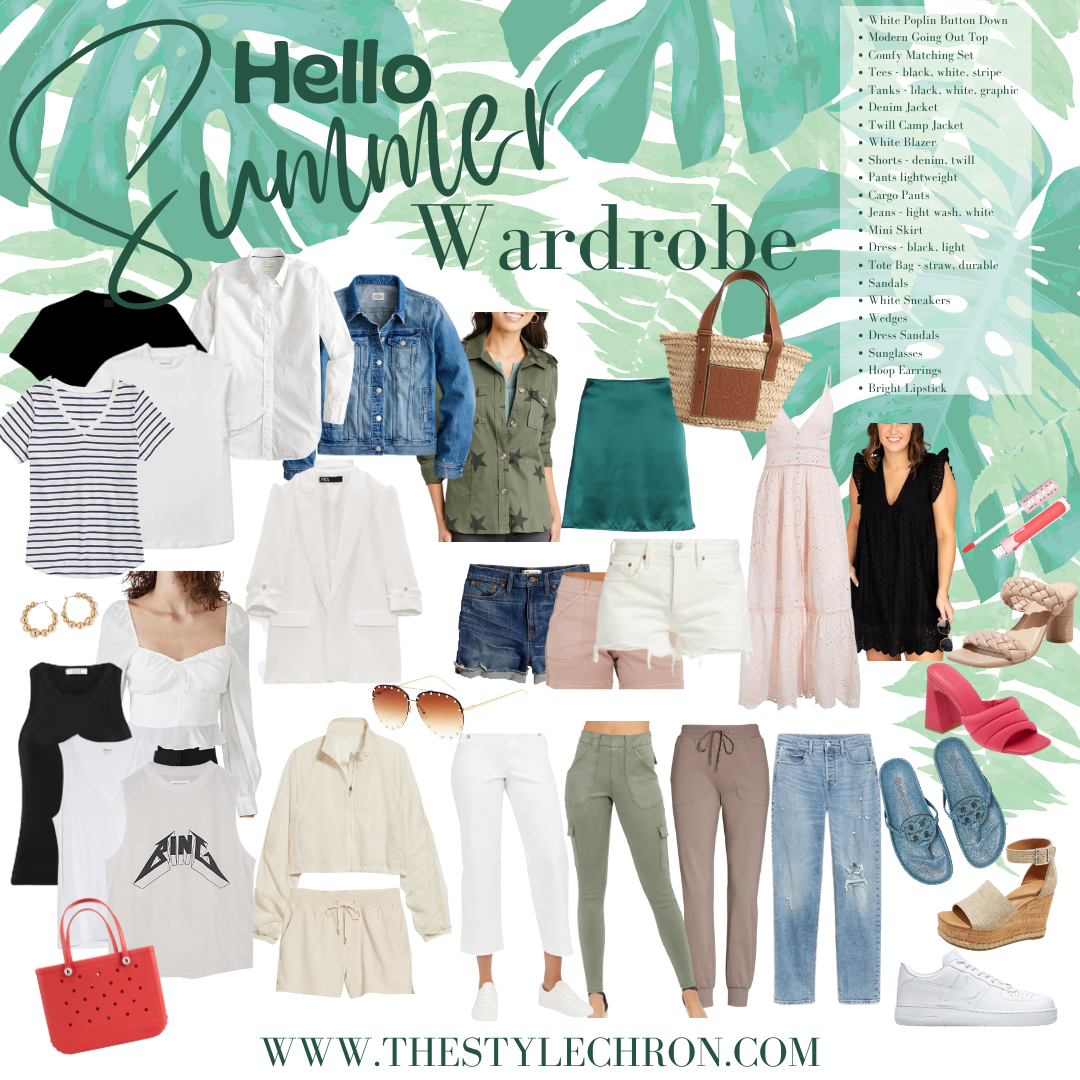 Let's get ready to do Summer 2022 right!! I have curated a capsule of crisp, chic updated items that will help you create stylish outfits for all your Summer endeavors. YOU have lots of these in your closet already!!!
SUMMER CAPSULE WARDROBE 2022
TOPS

White Poplin Button Up Shirt – This is a classic piece, you will wear this as a shirt and a jacket well into Fall. You can choose a breezy linen one or a structured cotton poplin. I would start with white and then add in a blue stripe, black or colorful one. Tuck it into shorts with a belt for a classic 90s look. This is a great piece for your Summer Capsule Wardrobe.

Modern Going Out Top – THIS milkmaid style top is right on trend for summer. Dress up with a silk skirt or jeans and a blazer for a modern going out look. Think interesting neckline.

Tees – short sleeve cotton tees are the most breathable for summer. Athletic moisture wicking tee shirts are also a good choice. You can wear these alone knotted or tucked in. They are great to layer under blazers and jackets as well. Ensure that your tees are stain free and in good condition for the Summer Season. I like to keep a white, black and stripe tee at the ready to make getting dressed simple and easy. Consider adding a graphic tee to break things up.

Tanks – cotton or moisture wicking sleeveless tanks are another great Summer top to have on hand to make comfortable outfits. Black, white and a graphic tank are good stylish separates. My favorite under $20 tank is THIS ONE.
MATCHING SET

Matching sets are very trendy this Summer and for good reason. They are really a two in one! You can wear each piece separately or style them together for lots of variety. I chose THIS JACKET and THIS pair of SHORTS as my matching set. There are also pant sets and skirt sets. Since most of my athleisure wear is made up of black leggings and tanks, I really liked the idea of a light colored set.
JACKETS & BLAZERS

Denim Jacket – the trustiest, seasonless classic that you will wear forever! I have ALWAYS had a denim jacket. We are talking since the 1980s, there have been denim jackets in my wardrobe. It is the first item that I purchase for my kids every single year when we back to school shop. The Denim Jacket is just PERFECT!! It is the best layer.

White Blazer – You have a black blazer. I know you do! Now it's time to lighten up with a white one. Instant refresh for all your work wardrobe pieces. Also a great look with denim and heels for summer date nights.

Camp Jacket /Anorak – A great layering piece to have on hand. Great for errands, rainy days, and A/C!!

Windbreaker – THIS one is part of the "Matching Set," discussed above. Just a light weight cropped jacket in a light color that I can mix and match for outfits.
BOTTOMS

Shorts – at the top of my list! I live in shorts during the summer. If your not living in shorts, get yourself some and wear the eff out of them! Don't let yourself suffer in pants because you don't like your legs. Puh-lease!!! I am serious! If someone judges you tell them to come talk to me! I've got your back! It's too darn hot to be out there trying to cover up your insecurity! Now if your gonna show ass cheek and underboob I. The same outfit, I might not have your back. Denim shorts in white and blue washes pair well with tees and tanks, twill shorts are great for dressier options and athletic shorts that are part of a matching set are great items you will get lots of wear out of.

Twill or linen white slacks – good for dressier things like work, church, brunch

Cargo Pants – olive green pants are such a great summer option since they are easily paired with a white blazer and a nude heel for work, or a denim jacket and white sneakers for a movie date!

Joggers/Leggings – I find joggers to be a more wearable athletic option when compared to leggings. I suggest brightening up and investing in a light colored, mushroom or cream colored pair.

Jeans – regardless of temps, jeans are always an option. Look for a lighter wash in the summer and go for straight leg for a modern fit.

Silk mini skirt – this is a great piece for dressy summer nights. I found this silk skirt and fell in love with the rich dark green shade. Silk is a natural fiber which means it is breathable and airy for the summer heat.
DRESSES

LBD – a summer little black dress should be breathable and light weight, this one has built in shorts and is constructed of a beautiful black eyelet lace.

Midi Dress – another eyelet lace dress in a longer length and lighter color. Wear with wedges for date night, white sneakers and a denim jacket to brunch and boutique strolls, and use as a swimsuit coverup for those beach trips.
SUMMER BAGS

Durable rubber tote that can be sprayed down to get rid of sand, sunscreen spills and tolerate wet swimsuits.
Straw tote – I love replacing my structured leather handbags with a cute straw tote for the summer.
Clutch – I failed to mention this in my picture, but a cute straw, linen or fabric clutch is a great evening bag and should be included in your Summer Capsule Wardrobe.
SHOES

White Sneakers
Wedges
Bright dressy sandals
Nude Braided Sandals
Durable Sandals for the beach and pool that can also be worn to run errands or sight see. Not FLIP FLOPS!
Wedges
ACCESSORIES
I like to keep things simple in the summer. No fuss. So I keep accessories to a minimum. All you need is:

Gold Hoop Earrings
Bright Lipstick
SUMMER CAPSULE WARDROBE CHECKLIST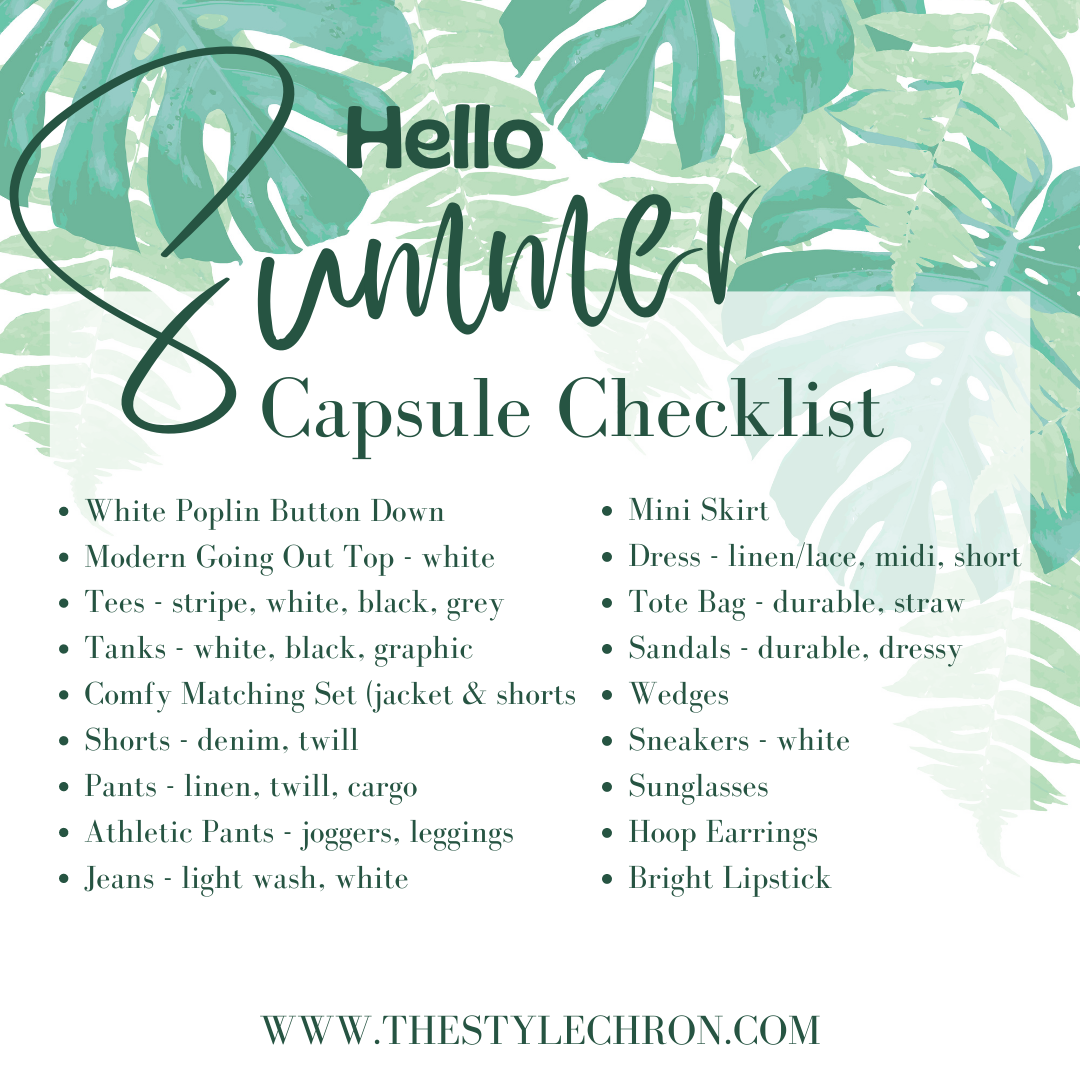 OUTFIT PAIRINGS
Stay tuned for templates of different outfit combinations. Currently, WORKING HARD on these!
Do not forget to check out these posts: