These are my must have fave summer accessories that you need!! With summer in full swing, these are the items that you will see over and over again via my Instagram and Stories. They are just my summer go-to's, even during lockdown and you will love them all summer long!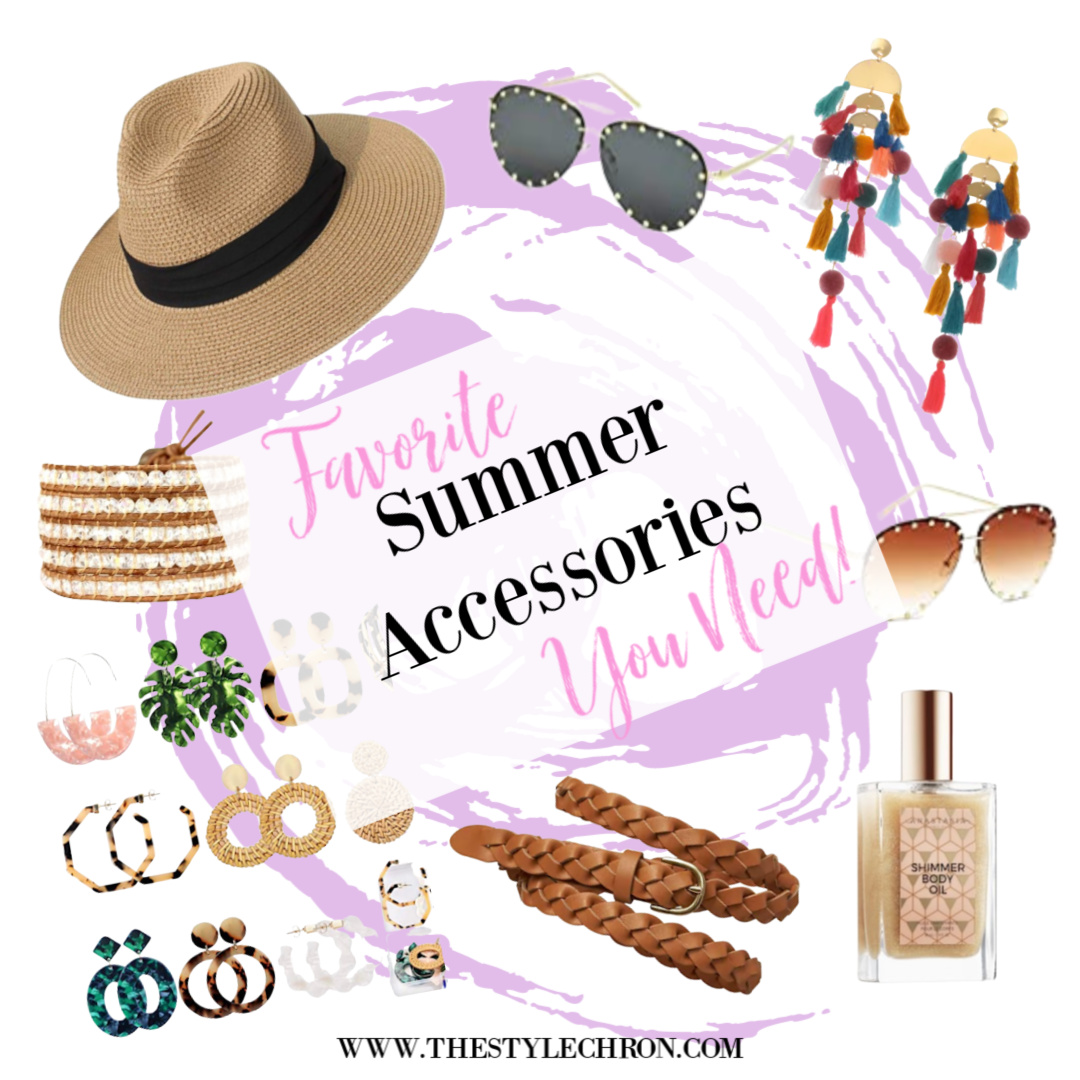 SUNNIES, $17|EARRINGS, $23|HAT, $22|BRACELET, $23|BELT, $14|ABH
SPRAY, $38 | TASSEL EARRINGS, $ 48
Sunnies are important year round. In the summer when we are outside more they are vital for our eye health, and they're great for those makeup free days!! These two pairs are under $17 on Amazon. They are dupes for a super expensive Louis Vuitton pair. You won't feel guilty is they fall into the lake or sand at the beach! You can see my other Amazon Faves here!
3. The bigger the better, right?? I love a great pair of summer earrings. Big, bright and weightless! Earrings add so much interest to the most basic tees and tops, and they look gorgeous poking through your summer hair. They just finish outfits and are always one of my fave summer accessories!! This entire pack of 12 was purchased for under $23. They are all very good quality earrings, that are weightless and non-fussy. You also won't feel guilty losing one during you summer outings!
4. A great straw summer hat is another must have! Great for the sun but also for those windy days or bad hair days. I always feel so chic when I wear a hat. The classic Fedora style of this one is cool chic and goes with all your summer outfits, not just bathing suits at the beach. It works well with graphic tees and camisoles as well, and is a steal at under $22.
These wrap bracelets are great and carefree for the summer and under $23. They come in so many different colors and crystals and are so easy to wear if you want a layered look on your wrist. I've always been a "Earring," person, but these have pulled me out of that and into the Bracelet world!
Sometimes all a look needs is a belt and brown braided belts are so classic. This is a great one that comes with a small black belt for $ 14. You can tuck in your tees and add a belt and a pair of leather sandals or mules for such a great step up from a basic go-to summer outfit!
8. This body spray is gold glitter suspended in a light oil with a great summery fragrance. It is just that, it adds gold glitter particles and a great scented sheen to your skin. I LOVE IT!! It's so sexy and feels so pretty. I love to spray my legs and shoulders with it. See my everyday makeup routine here.
9. These earrings needed to stand out on their own. I resisted purchasing these for so long, and finally dove in last Spring. I am so happy I did, I wore them everywhere last summer and was so excited to pull them out again this Spring. They are my favorite earrings ever!!! I get so many compliments and questions about them every time I wear them. I get DM's and messages on Instagram from people who want to know where to get them. They are just perfect for any occasion, and are so fun a flirty and light weight!!! They are $48, and well worth the price for cost per wear AND WILL BECOME YOUR FAVORITE SUMMER ACCESSORY!!

Check out these latest posts:
And my Summer Capsule Wardrobe and checklist!
I hope you are all doing well and staying home! Houston was starting to move around again, and my family was venturing out more. However, things have taken a turn for the worse and now we are locking down again. I have cancelled all travel that was scheduled for the summer. It's a bummer and my kids are bored, but we want to be conscious and NOT get this nasty virus!!! I hope you enjoyed these Fave Summer Accessories that You NEED!!
XOXO, Ericka