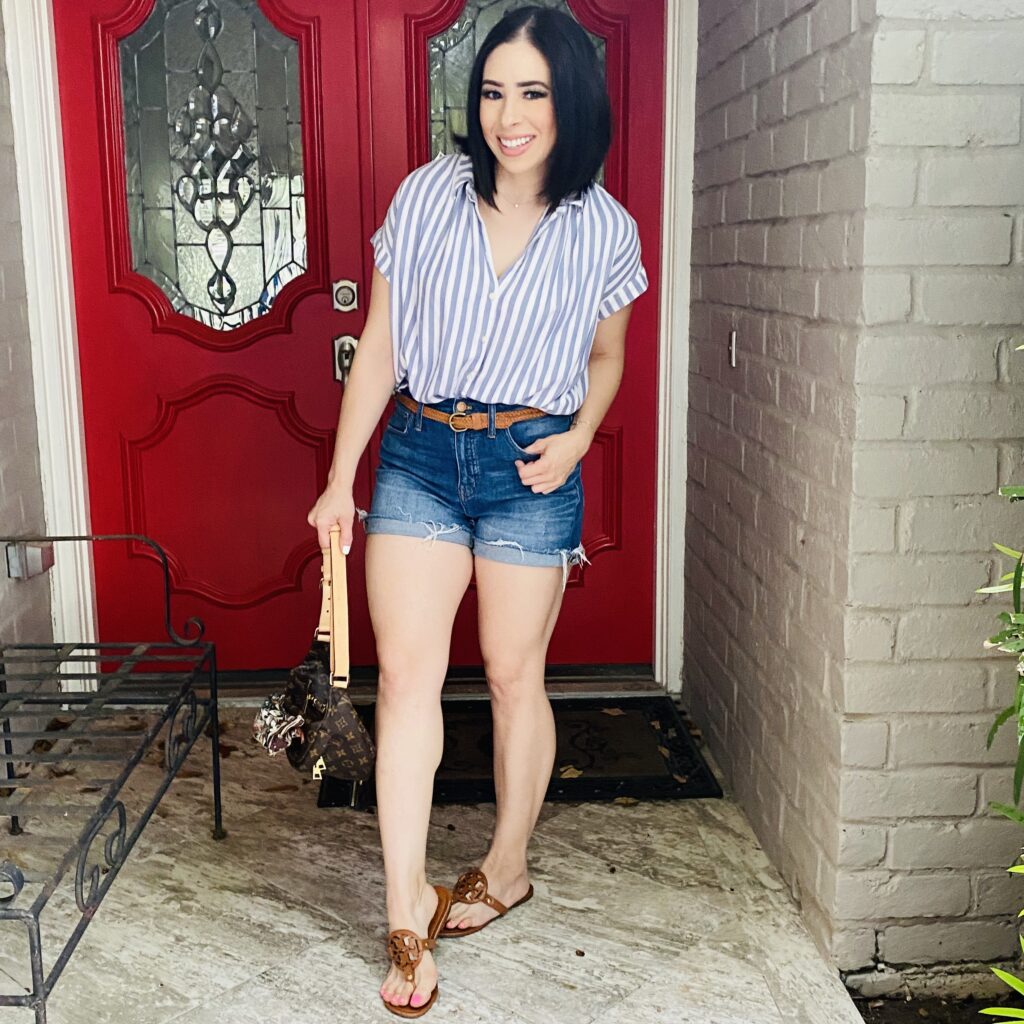 I look forward to the first time I can comfortably wear my denim shorts each year. Truth be told it is warm enough in the winter here in Houston, that I could wear them earlier, but I always save them for these early days of SPRING!! It just feels right. Do you follow the weather and anything goes?? Or do you hold yourself to a seasonal calendar?? It's so hard in Houston, Texas because while the rest of the country is in coats and scarves while we have the warmest climate!!
This striped shirt is so flattering and very comfortable. Button downs are so versatile since they can be tied or tucked so many different ways. Which is also true for these shorts, the hem can be worn cuffed or turned down for different looks. Statement belts have been all the rage for a little while, but never underestimate the appeal of a simple braided belt, it is classic and so preppy. I paired this outfit with simple sandals and a neutral handbag. Good leather sandals are a great option for a comfortable pulled together look (no flip flops, ever!).
You can access the Spring 2020 Capsule Wardrobe here!!!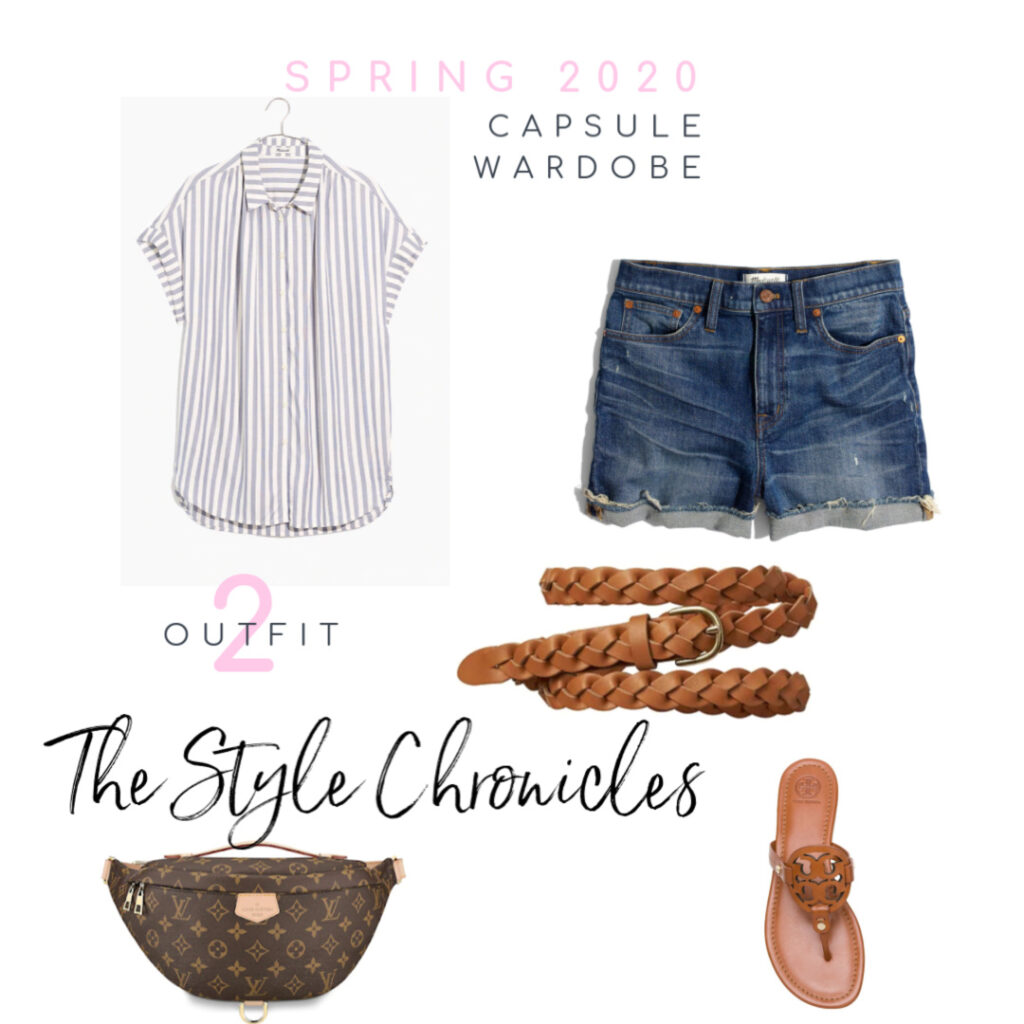 Outfit Formulas are such an easy way to mix and match your wardrobe pieces. They help you put together outfits that are well balanced, structured and proven effective! All you have to do is follow the guidelines and substitute items to create variation!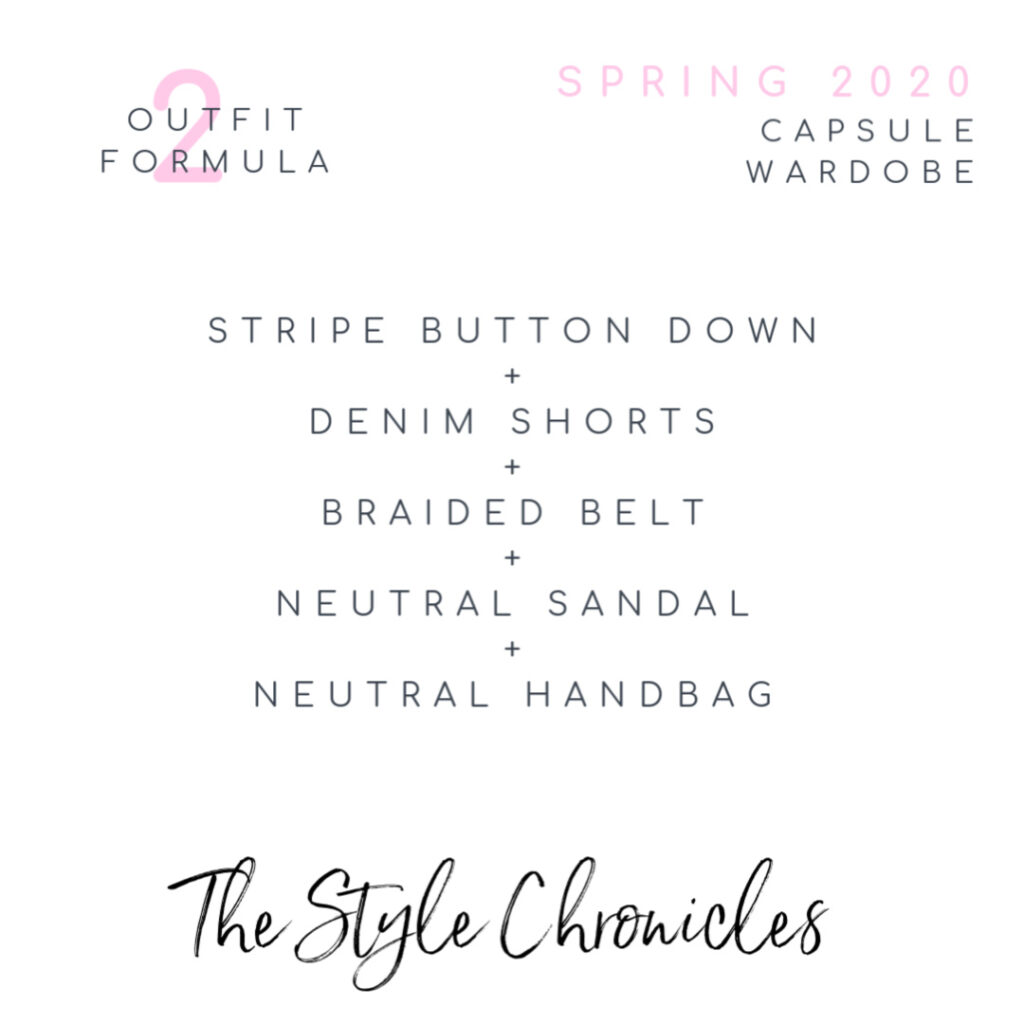 Friday in Quarantine,
I spent the morning waiting in line at my local HEB Grocery store. The doors open at 8 am and there was a line that wrapped around the store at 7 am. People are generally nice, and we stand a cart full's length apart. There are not very many children, I don't take mine so I only need to shop and not worry what they are touching. It is so hard to see the shelves half empty and the produce half stocked. I know that there is food, that there will be things that I typically buy available again. It's alarming though. I did not "hoard" toilet paper but I did have a backup, and now that I am close to opening that backup, there is no toilet paper and I should of hoarded toilet paper!!!
It feels good just to get out and drive my car for a little bit, a little normal. Friday is our Margarita night and we ordered pick up from Pappasitos. There were no Margaritas available, but there was a Salty Dog or "Perro Salado." Not bad. I could learn to love. I usually drink Skinny Margaritas anyway so I am used to the non-sweet, lemony taste.
I feel that the best way to weather this Isolation is to find the good, the okay, the opportunity. Let this experience test you, let it strengthen you! I am off to the 1st weekend of Quarantine…
xoxo, Ericka