What to Wear for the Fourth of July! So it should be said that Fourth of July Celebrations will be a little different this year! Everything is different this year! There might not be backyard BBQ's, Parades and Firework Shows, and at this point even a small family gathering is out of the question.
This year we will do 4th of July solo. There will be fun though, there will be family time and there will be some red white and blue outfits!!! Here are some outfits I've put together with items that I know are still available if not already in your closet!!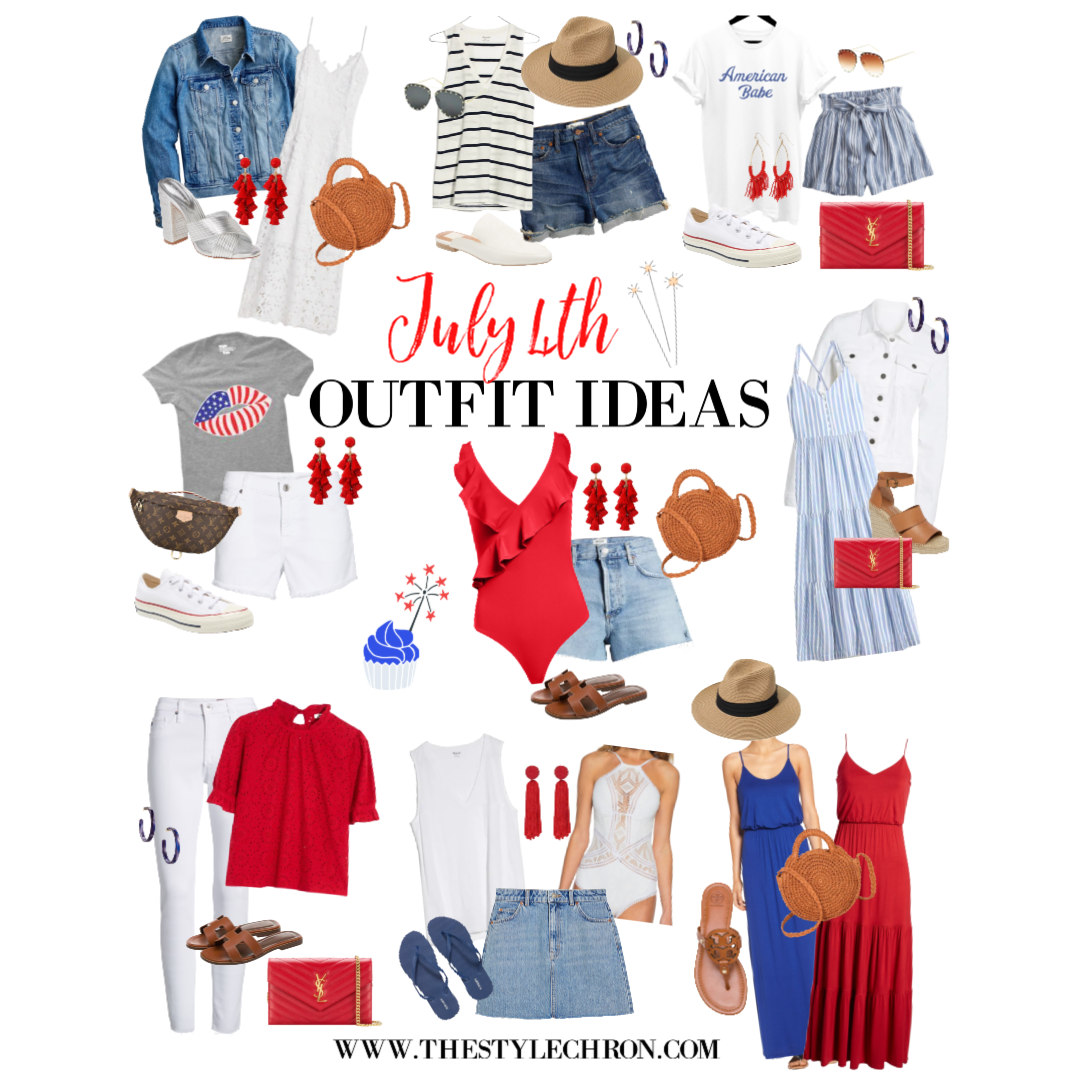 Denim Jacket + White Dress + Silver Heels + Round Straw Bag + Earrings
Slighty dressy dress with some great silver heeled sandals and a denim jacket! Summer pretty at it's best.

Striped Tank + Denim Shorts + Mules + Hat + Sunnies + Earrings
Classic Tank and denim shorts outfit with a hat and a pair of mules.

Tee + Striped Shorts + Converse + Sunnies + Red Crossbody Bag + Earrings
This "American Babe" tee is a winner for sure, it is available here. I purchased a size larger since everything shrinks and it gives me room to tuck or tie. Pair this with a pair of comfy shorts and some sneakers!

Lip Tee + White Denim Shorts + Converse + Bumbag + Earrings
This Graphic American Flag Lip Tee was a purchase form my favorite local boutique, Rich Girls Boutique. It's literally around the corner from me and they always have the cutest things in, but they move FAST, so if you see it you have to get it quickly!

Bodysuit + Denim Shorts + Oran Sandals + Round Straw Bag + Earrings
This exact bodysuit is sold out on the Nordstrom website, so I have linked two other great red ones. Pair a bodysuit or bathing suit with a pair of denim cutoffs and some great leather sandals!

Striped Dress + White Denim Jacket + Wedges + Red Crossbody + Earrings
Another favorite dress combos, a fun and flirty striped dress with a white denim jacket and some neutral wedges.

Red Lace Top + White Denim Jeans + Oran Sandals + Red Crossbody
A classic red and white look!

White Tank + Denim Skirt + Flip Flops + Earrings + Lace Swimsuit
Here's a great combo for the pool or beach. You can just pull on your denim skirt and a tank over your swim suit for a great look. Since it's the beach you can totally wear flip flops!! I won't even be angry with you, your near water!!!

Blue Dress/Red Dress + Leather Sandals + Hat + Round Straw Bag
Grab a blue or red dress and throw it on with a pair of leather sandals, a classic straw hat and bag and your good to go!

Check out some of my latest posts here:
And don't forget my Summer 2020 Capsule Wardrobe and Checklist!
However you celebrate this year I wish you a wonderful 4th of July! May you be safe, healthy and happy!!
XOXO – Ericka