The Summer 2020 Capsule Wardrobe is here! Summer is a wonderful time to pull out some old favorites and experiment with new trends and colors. I love to adjust what I wear seasonally so that I get the most out of my wardrobe. Summers are brutal in Houston, Texas. It gets hot. More than hot, humid. The humidity is what will get you, it's what makes Texas summers vivid.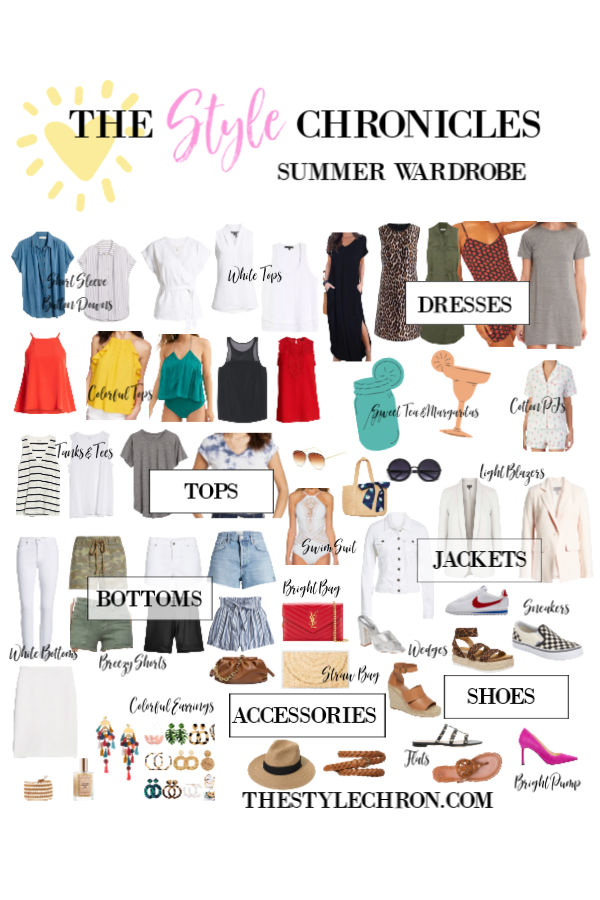 I will run through each piece of the Summer 2020 Capsule Wardrobe with you and give you some options below. You can access the printable checklist here as guide for what to add to your wardrobe. Download printable.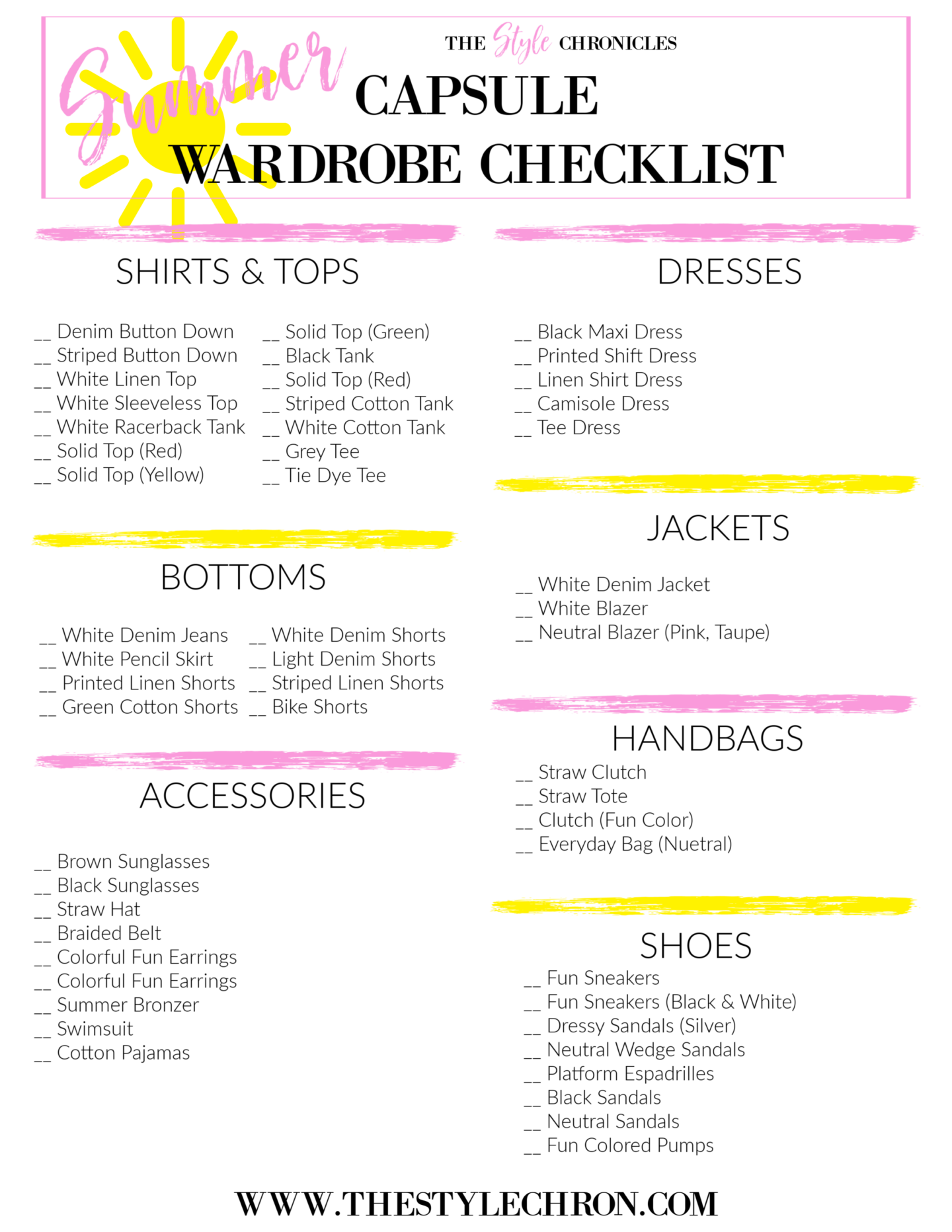 SUMMER TOPS
It is important that we dress for the heat and that means finally shelving the long sleeve options left out from Winter and Spring. Look for short sleeved tanks, tees, button downs and plenty of camisoles. In cool fabrics like cotton, linen and blends.
Denim Button Down – A Classic denim button down with a short sleeve for summer. A great option from Old Navy is this one for $10.
Striped Button Down – this is a Madewell identical to the denim one above. the white version. See a great option from Walmart for $14 here.
White Linen Top – linen is such a classic summer fabric. It is breathable and slightly dressy but still very relaxed. Another option from The Gap is this one for $12.
White Sleeveless Tank – a dressy option for the office or dinner date. Dressier tops like this one are good for dressing up work or weekend.
White Cotton Racerback Tank – another great white piece. Tank tops like this one from Old Navy for under $19 are essential.
Red Shell – My favorite color for a pop is red. It looks so good on everyone and Sleeveless versions like this one from Nordstrom are great for summer weather.
Yellow Tank – Yellow is such a fun summer color, this eyelet one is perfect for all occasions.
Green halter bodysuit – Green tops are another fun summer shade. This one with it's cross neck is perfect.
Black tank
Red Tank – I love this one. The bib is lace and it just yells "Cinco de Mayo," "Fiestas Patrias" to me. It also comes in green and cobalt blue, white and black.
Black Tank – This one from Target for $12 works for summer days and can be tucked in and dressed up, or can be worn with shorts for a casual look.
Striped Tank – a striped cotton tank is so versatile and can be tucked in, knotted or layered for so many different outfits.
White Tank – this will be your new wear everywhere all the time, take off only to wash tee. It is such a great cotton tee shirt. soft and comfy and so wasy to wear and under $15.
Grey Tee – this will be the next wear everywhere take off only to wash tee, for when your washing the white tank!! This tee is so stretchy and soft it's crazy!
Tie Dye Tee – You really do need this trend and a tee is the easiest way to do it. This one is under $10.
DRESSES
I like to include several dresses in Capsule Wardrobes so that there is versatility. I also included a swimsuit and pajamas here.
BOTTOMS
JACKETS
White Denim Jacket – quintessential jacket meets quintessential summer.
White Blazer – adds a touch of dressiness to any outfit.
Blush, Tan or other Light colored Blazer – also adds some elegance to an outfit.
SHOES
Of course, with any good capsule wardrobe comes a couple of fun shoes!
HANDBAGS
Straw Clutch – all day, all night
Bright Cross body/Clutch – yes, for date nights.
Straw Tote – for all the things!
Neutral Crossbody/Clutch – everyday basic.
ACCESSORIES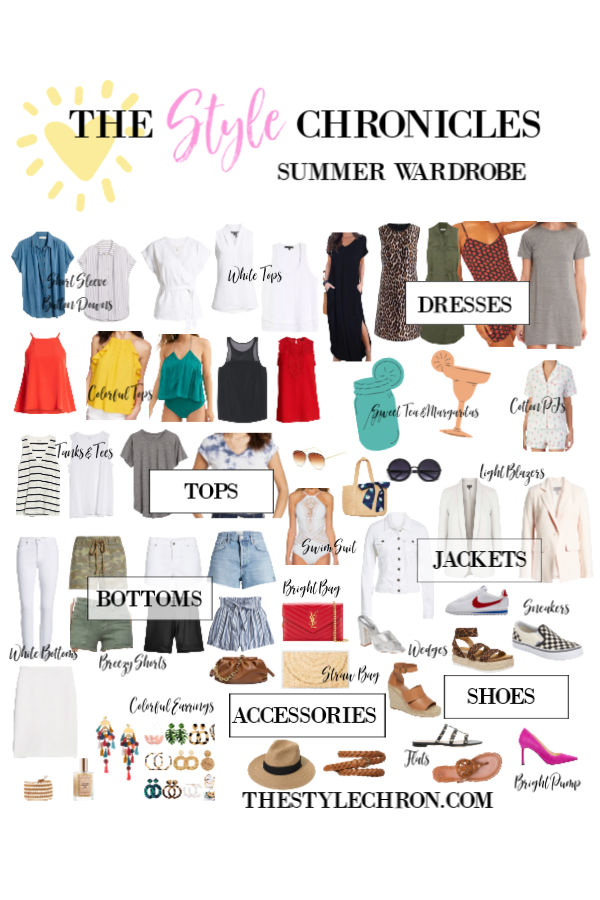 You can click here, to see my Spring Capsule Wardrobe.
Also, do not forget to print out the Summer Checklist!!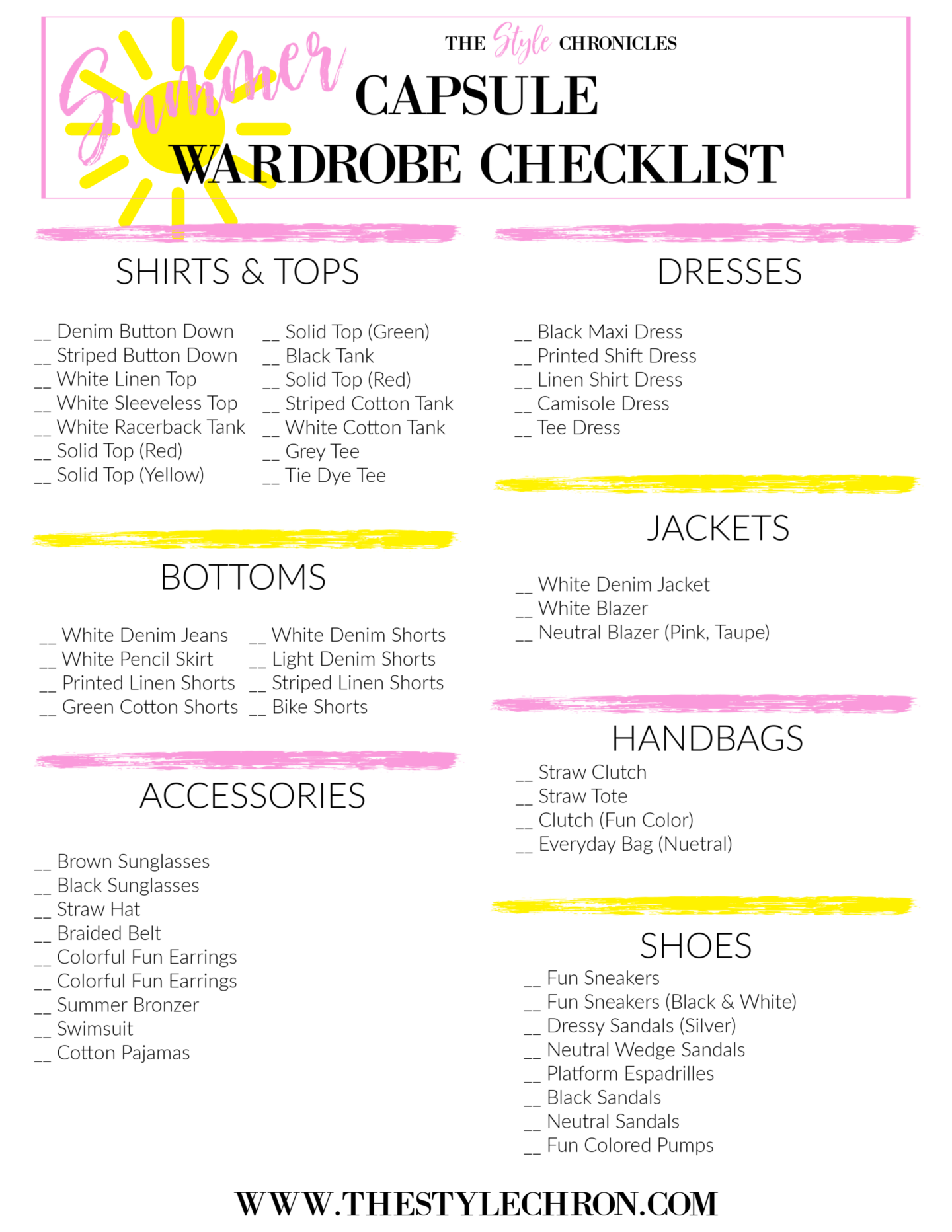 I spent most of quarantine/stay at home, curating this collection. Some pieces are classic items that I keep in my wardrobe and pull out every Summer, and some are new items that I have added this year. I love to mix and match these items with my year-round basic wardrobe for endless outfits!
We are off to run some errands, it's been fun slowly venturing out into Houston after going no where for three months. We had lunch out for the first time at Kenny & Ziggys!!! SOO GOOD!
XX ~ E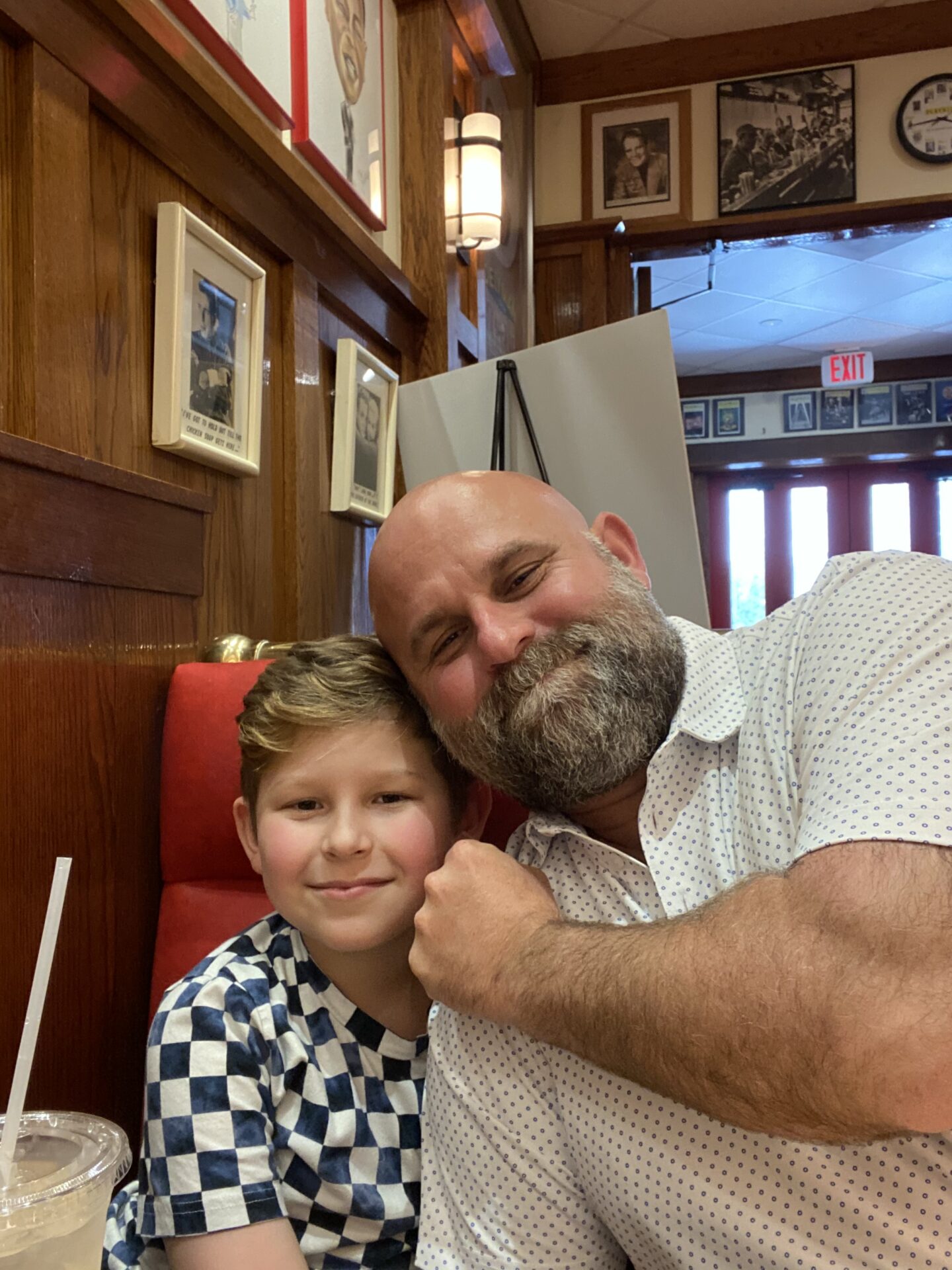 Do NOT forget to checkout these articles as well:
XOXO,
-Ericka