Hey there!! Welcome back to The Style Chron!! Welcome to the Weekly "5 Friday Faves!" These are our Top 5 most liked, talked about and favorited fashion & style items on the blog, Instagram & YouTube.
Link are listed below in the pink highlighted font.

Star Jacket (TTS) Small, $39.99 | Romper Dress (Size Up), $46 | Denim Jeans (TTS), $130 | Paddle Brush, $13 | Neutral Braided Sandal (TTS), $40

This Star Jacket has been a personal favorite of mine for two years now. It is a great classic shade of green with classic military styling. The star pattern keeps it interesting and is such a great "break" from the camouflage and plain army green jackets that are very popular into the Summer.
I wear my jacket year round and find that it works as a lightweight layer throughout the summer. It is a great substitute for a denim jacket.

This dress has built in SHORTS!! You read that correctly!! There are shorts under there! This makes it so easy to wear. I ordered a small and it is a little tight across the chest, so I would suggest ordering up one size for a better fit. (I am 34C in the chest, for reference.)
The dress comes in every color you can think of. I have already ordered white, black and the pink colors for this summer. I recently wore the black one on a weekend getaway to Lakeway, Texas. It was so easy for travel and worked so nicely getting in and out of our vehicle as we toured the little towns on our way back home.

Okay, I know these jeans are $$$. Hear me out!!
These jeans are the absolute best denim jeans I have ever purchased. They are so my favorites that I have already ordered two more pairs. They just fit well. Especially if you are curvy and traditional skinny fits are too snug or pull on you.
The denim is strong and structured with just the right amount of stretch. I prefer fits that are high waisted and ankle cropped. High waisted pants create the illusion of a taller figure, while holding in your momma belly. I like the ankle cropping because I am 5'2″ and usually have to have my pants/jeans altered to fit (i.e. inches of fabric cut off from the bottom).

I have two daughters. They both have long hair. They both have their own hair brush.
Still, they take mine.
So I purchased a new one! This hair brush has been my favorite for years. I will always repurchase it as needed.

It's sandal season and nothing is more versatile than a neutral colored skin toned upgrade for the Spring/Summer. Braided sandals continue to show up in stores and I recently found these for under $40. They are a perfect dupe for the $140 Dolce Vita Sandals from Nordstrom. A great Look for Less!
Shoes are an excellent way to update your wardrobe this season. Keeping up with trends while finding a great look for less helps to keep things looking modern and fresh.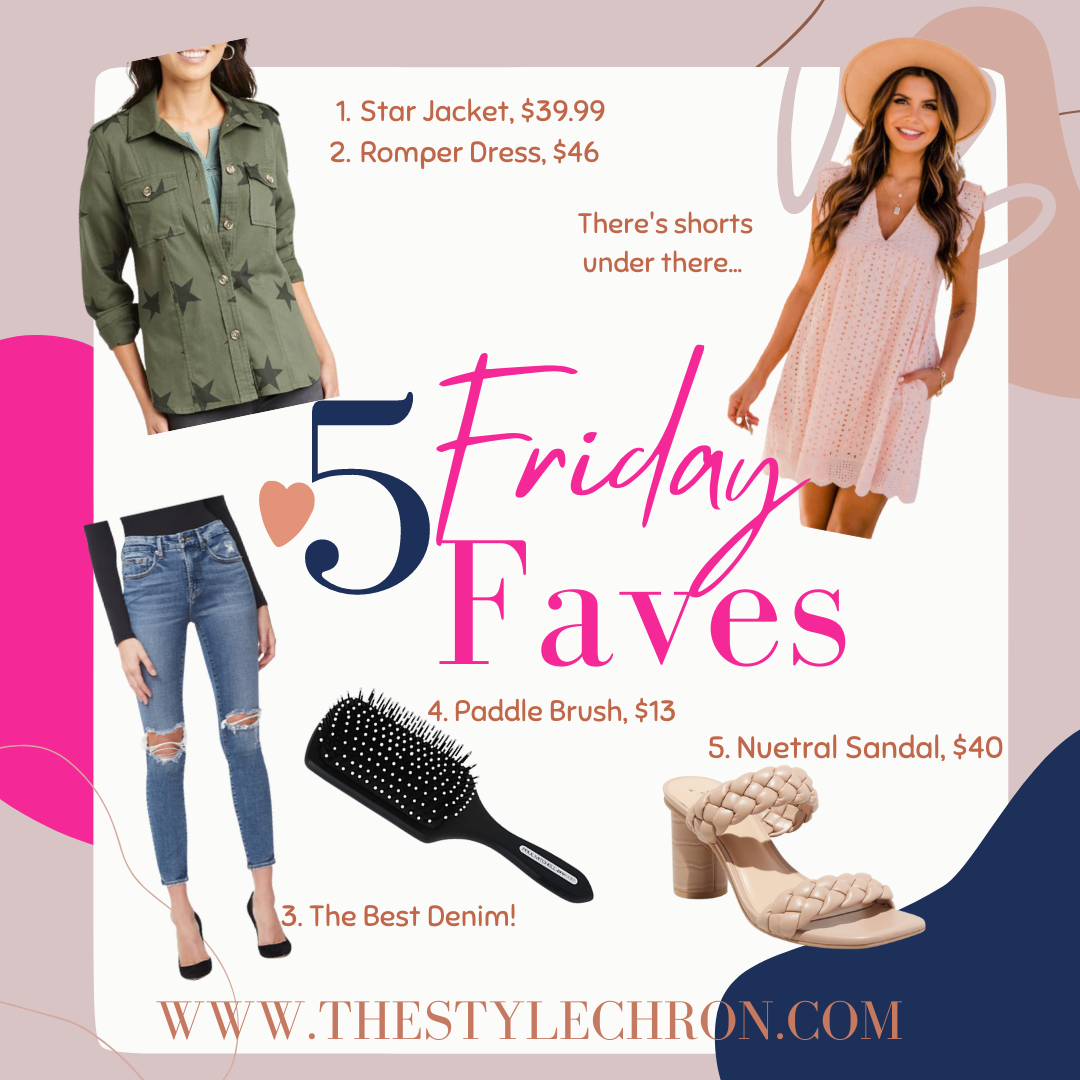 Thanks so much for visiting, I hope you enjoyed this weeks Friday faves!! Check back each Friday for new finds and must haves! And do not forget to check out last Friday's Faves here.