Welcome to the first Weekly Best Sellers of 2021!!
I love putting this post and video together because these are all items that are chosen by YOU!! My friends on Instagram, YouTube, Facebook, TikTok and this blog choose the ten items that make this list. If you asked me about it, shopped it, went to look at it, then it registers as a top ten!! THANK YOU for doing the work for me!!!
HOW TO SHOP BEST SELLERS
Simply click on any of the blue text or the carousel to be directed to the item/product. I will include size information where necessary for your convenience.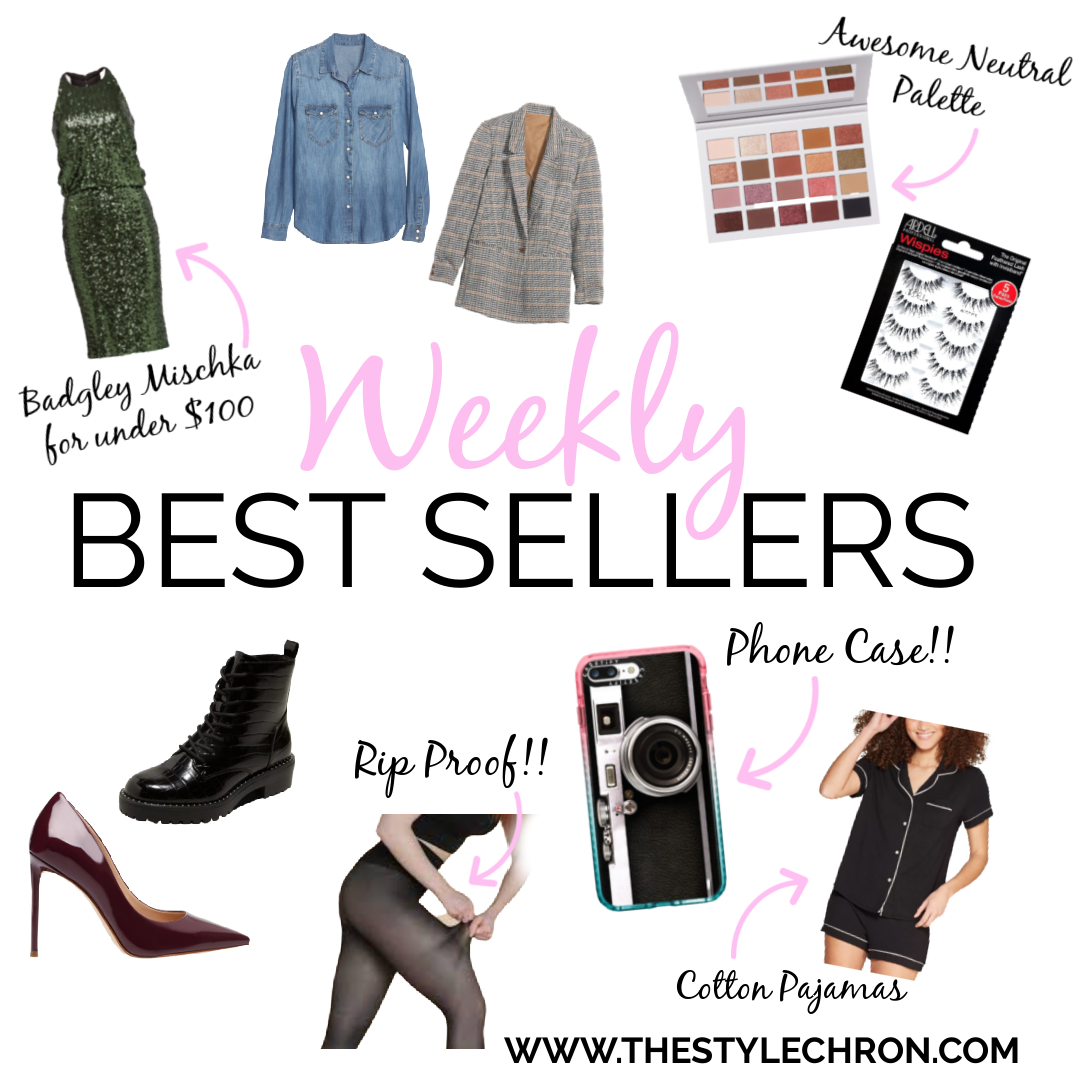 There is a secret to wearing designer dresses and other pieces for WAYYYY less than designer prices. I've been an avid Rent the Runway fan for years. I love to plan out my rentals and always have four pieces in my current wardrobe that are rentals. Especially dresses. Dresses are so memorable. I used to purchase them for special occasions, wear them once, and then they would take up valuable space in my closet. NOT ANYMORE!! You can choose two sizes to be sure of a great fit. There are lots of reviews (lots of my own personal reviews) that help guide you for sizing as well. This one can be purchased for $49 or rented.
** Use this code " RTRFAM527D1AD" for 40% off 2 months of RTR's 8 and 16 item plans.
The denim button-down shirt has been in my closet for years. It is a classic piece that you will wear year-round, for so many different occasions.
Dress it up with slacks for work.
Pair it with a pair of shorts and a camisole for the summer.
Tuck it into a pencil skirt for church.
Go all in with a denim on denim look with some tan booties and a hat.
I have gotten so many messages about this denim button-down. So many of you have and wear it and wonder why you waited so long to add it to your closet!!! I am a size small in this top.
This blazer is so soft, comfortable, and easy to wear. It was an early fall purchase for me, and I am so happy that so many of you have already purchased and fallen in love with it also. It's a great chilly day topper. Great for work or with jeans on the weekend. Currently, it is on sale for under $30!!! I am a size small in this blazer.
I purchased this palette for my daughter Eva. She's been experimenting with my hand me down shadows for years, and I wanted her to have something that was hers. It is a great variety of neutral shadows in shimmer, satin and matte shades. I have played with it several times and always get such great feedback from Insta Stories, so I started linking it.
If you catch me in real life without my lashes, it's because I am sick. There must be flu or cold going on if I have not taken the time to apply my lashes. I DO NOT LEAVE THE HOUSE. PERIOD. These are the ones that I purchase time and time again. I love how comfortable they are, the price point, and the way they sit on my eyelids. Why invest in extensions that are just going to fall out anyway and have to be touched up every 2 weeks? I can get these on in under 5 seconds and they look just like extensions!

These heels made my "5 Friday Faves," this week. They are my current favorite heels!! Very comfortable, beautiful shade, and a great under $100 price point! I have envisioned these pumps in my head for years and searched for the perfect wine colored glossy look and am so happy to have finally found these. I am a 7 1/2 American shoe size and these are TRUE to size.
Combat boots are everywhere right now. This is a trend that will continue for the next couple of seasons. I purchased these for under $30 and have loved styling them with jeans, tights, and shorts. Eva and I are currently sharing this pair of shoes since we are the same size. They are faux croc with cute little silver studs on the lip of the soles. I purchased a 7 1/2 and find that they are true to size.
YES! RIP PROOF!! You can't tear these they are indestructible. Just try! I love hosiery! It can add such edginess or class to an outfit. My dog loves to jump on my legs the minute I put a pair on, so I love that these are rip-proof!!!
This phone case has quickly become a fave for everyone. It is meant to look like an old camera, and I love how that reflects in selfies!! It comes in varying degrees of protection from light to heavy, and there are different options for iPhone models and Android phones. I ordered it in green for the iPhone 11 Pro Max, and handed that phone over to Eva when I upgraded to the iPhone 12 Pro Max. I purchased the exact same phone case in blue it. I love that the clear part that surrounds the phone matches the color of the phone itself.
These pajamas are comfortable and breathable. Here in Houston, we live in the heat most of the year, and usually, I can only sleep in shorts. These are so comfortable and breathable for the night.

As I said earlier, Thank You, for doing the work for me! This post is always so much fun, it makes me aware of the items/products that you all are shopping for and loving!!
Do not forget to check out my latest Friday Faves!!
I hope you had a wonderful weekend! I am off to plan for the upcoming week and finish laundry!!
XOXO, – E